Every few weeks we get contacted by a patient that is unhappy with the results of their injection procedure at another office. As long as the injections received from the other practice are "Hyaluronic Acid" based products such as Restylane, Juvederm, Perlane (Restylane Lyft), Voluma and Belotero, we can easily reverse the injections with an enzyme called Vitrase.
When Vitrase is injected into the area where the Hyaluronic acid based product resides, it breaks down the product and the result of the previous injection is reversed.
In a particularly troubling case (photos below), a patient was injected into the lower eye area very superficially (near the surface of the skin) with Juvederm. There was 2 CC's of product placed immediately under the eye and it led to the area being very swollen and bloated looking. As you can see from the after photos, within minutes this yearlong ordeal for the patient had been fixed. We like to see smiles like that on our patients!
Juvederm Injections Before and After Vitrase reversal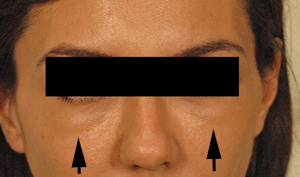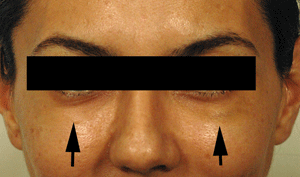 To find out more about injection treatments or injection reversals, contact the office for a free consultation.
---