Acrochordons, fibroepithelial polyps, and papillomas are all fancy names for skin tags. Chances are, you've got one (or more) of them somewhere on your body. Skin tags tend to pop up (literally) in your underarms, groin and neck area—usually places that rub a lot.  You've seen them: little, skin-colored, fleshy bumps that are about 1 to 3 millimeters in size. And no, they aren't warts or cysts or any other type of infectious…they simply happen to some of us!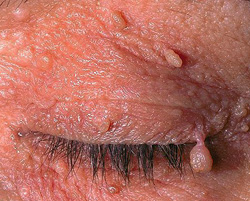 Photo courtesy of Dermnet New Zealand
The good news is that skin tags are almost always benign (non-cancerous), although we sometimes tend to see them more often in those who are overweight. Skin tags generally don't require medical treatment.  For those of us suffering with them, we can't get them removed fast enough!
Celibre Medical is a laser dermatology facility. We love lasers and we have lots and lots of them. While there are a lot of conditions that we treat with lasers, removing skin tags is not one of them.
So, how do you get rid of skin tags? They are best removed using a hyfrecator. Electrodessication is a treatment where the tag is heated to a high temperature with a very fine probe or needle. Although a little uncomfortable, the reward for getting them removed is sweet.
---