Stretch marks can be brown, red, or white depending on the type of skin and type of stretch mark. White stretch marks are more mature (older) and have lost pigment (color) within the damaged areas of skin. This lightening of the skin is known as hypopigmentation. Because stretch marks are caused from permanent damage to the skin/tissue, the goal in treatmenting them is improvement rather than complete removal. Lasers are excellent options when used to fade red or brown stretch marks or for improving textured stretch marks. However, when pigment is lost (hypopigmentation) treatment of the stretch marks a bigger challenge.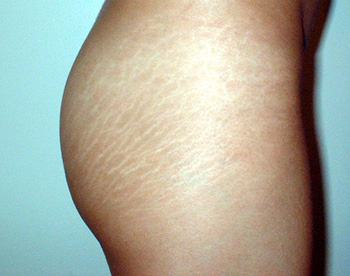 *Photo courtesy of ritesofpassage at blogspot.com.
There is only one technology (Excimer laser) that works by bringing or dragging the cells that hold color (melanocytes) from surrounding areas to the lighter areas. Although this laser is effective at repigmenting white stretch marks, patients with lighter skin types may be disappointed with results because they can be inconsistent from person to person, only partially repigment the stretch marks and have only temporary effects.
Any benefits received for repigmenting white stretch marks are temporary, and repeated treatments will be required to maintain the results.
---