If you're thinking about having dermal filler injections, then one of your concerns may be looking natural.  If you partner with a skilled and knowledgeable injector like those at our office, then you will have the chance to fully discuss the risks and benefits of dermal fillers.
Because hyaluronic acid (HA) occurs naturally in our bodies, we can break them down on our own. These products respond exactly the same as our naturally-occurring HA does and the fillers slowly dissolve over time.  This makes them extremely safe, and while you may not want the changes from your filler treatment to go away, they will eventually! Nothing from these filler products will remain in your body after they have completely degraded and dissolved.
Many patients like you wonder what happens if you start and then stop using dermal fillers.  Are there any permanent changes to the skin or face after using dermal fillers like Restylane, Juvederm and Restylane Lyft?  We tell patients like you that when you stop using dermal fillers, there are no permanent changes because of them, only the natural aging that occurred while you were using them.
To get a better idea of what these injections can do for you, take a look at this patient's photos. She had lost a disproportionate amount of volume from the right side of her chin. This made the right side of her mouth turn down and "droop" a bit. With her, we used Restylane injections to restore the lost volume in her chin. This provided the proper support the corner of her mouth and gave her chin and lower face a smoother and fuller look altogether.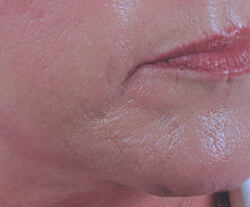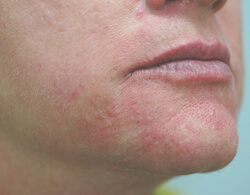 Before and after pictures of Restylane injections
Read About All Celibre's Facial Shaping Techniques
---