SYRINGOMAS are commonly found under the lower eyelid or other locations within the eye's orbit. Syringomas are found mostly in women, they usually appear during puberty and are 1-3 mm in diameter. They are white or yellowish, soft translucent bumps that can also appear sometimes on the cheeks or torso.
Syringoma Removal Los Angeles by Celibre Medical Laser Dermatology.
Schedule a FREE consultation for laser syringoma treatments, celibre.com/contact-list.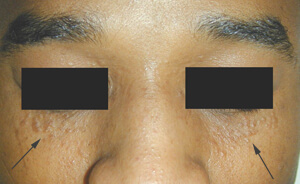 Important points about Syringomas:
*Syringomas are only a cosmetic concern and do not represent a health threat.
*Syringomas are treatable with destruction only by destroying them with an electrical device (electrodessication) or using ablative lasers (erbium).
*Care must be taken if lasers are used to treat syringomas that are very close to the eye lashes. If the syringoma lesions are too close to the eye area we may not be able to treat them. In addition, African Americans and higher skin types are not candidates for Erbium lasers in our practice so they may have to use electrodessication instead.
*Syringomas will persist unless treated.
*Syringomas should be diagnosed before receiving treatment as they can be mistaken for other kinds of lesions.
Lori Haney, RN, MEP-C
Certified Medical Laser Safety Officer
---