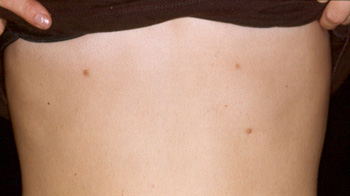 It is not uncommon for mammals (including humans) to have an extra nipple or an "accessory" nipple.
These lesions may be found anywhere on the trunk of the body below the nipple line. Accessory nipples usually only represent a cosmetic concern.
The best treatment option is surgical excision by a qualified general or plastic surgeon. Once the lesion is surgically removed, the resulting scar may be treatable with class IV medical lasers.
Lori Haney, RN, MEP-C
Certified Medical Laser Safety Officer
---