The term "birthmarks" is used to refer to many types of pigmented and vascular lesions (discolorations to the skin). Some birthmarks are reddish in nature. These are vascular birthmarks, meaning that there is a blood supply or capillary network that gives them their reddish appearance. The other form of birthmarks are considered pigmented – meaning that they are darker in color because the skin has a higher concentration of melanocytes (cells that hold color/pigment). Almost all birthmarks are treatable with class IV medical lasers unless they are atypical (out of the ordinary) such as those that are very large and/or with hair and should be evaluated by a dermatologist.
Although responsive to laser treatments, most birthmarks require numerous laser treatments for optimal results. The expectation should be improvement or fading rather than complete resolution although complete resolution may be an outcome for some. The majority of these birthmark conditions are benign without cause for concern. Class IV medical lasers represent an excellent treatment option for all skin types.
Pigmented (Brown) Birthmarks:
Café-au-lait
These appear as macular (flat/non-raised) areas that are light to dark brown. They usually are not associated with any underlying condition. These lesions appear as thin, superficial lesions and may appear anywhere on the body.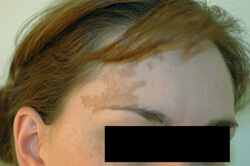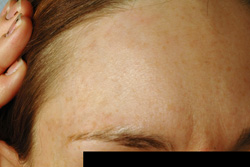 Celibre Laser Birth Mark removal patient
Becker's Nevi
These types of pigmented birthmarks are darker in color than Café au laits. The are generally found unilaterally extending down the chest wall, arm, and shoulder. A close inspection and history should be performed before proceeding with laser treatments.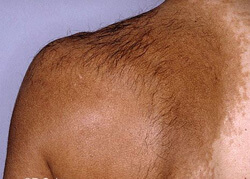 Photo courtesy of Dermnet New Zealand
Vascular (Red) Birthmarks:
There are several vascular birthmarks that fall into this broad category without necessarily being present at birth.
Cherry Hemangiomas
These are very small, circular red, raised papules. They usually become noticeable around middle age and begin on the trunk of the body but may extend to the extremities as well. The red color usually disappears when pressure is applied. These are very treatable with lasers.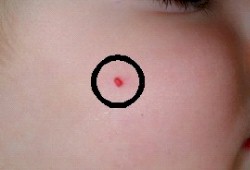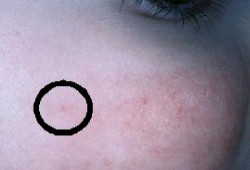 Spider Angiomas
These are similar to cherry hemangiomas but have a spidery look to the lesions.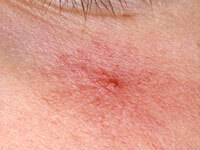 Port Wine Stains
These lesions are very vascular in nature and respond well to pulsed dye laser treatments. However, numerous treatments are usually required.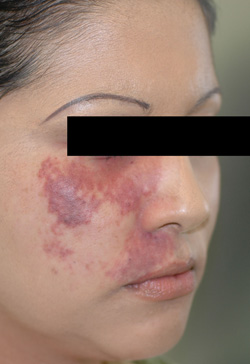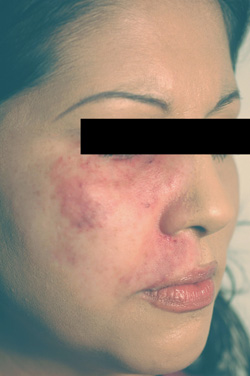 Celibre Laser Birth Mark removal patient
---