Most Commonly Used Lasers for Wrinkles
The most commonly used lasers for wrinkles are the fractional CO2 and Erbium. There are many different manufacturers all with these same types of lasers. There are also other factors in deciding which laser to use for a patient.
Laser Choice Depends on the Patient
When choosing a laser or injection to treat fine lines and wrinkles, we first ascertain the patient's goals. Our laser recommendation for a 35 year old patient with relatively mild fine lines and sun damage that wants to be proactive about potential wrinkles may be very different than that of a 60 year old that has been smoking and sunbathing for 40 years.
Can the Patient Afford a Recovery Period (Downtime)?
Some lasers need no recovery time and others can require up to 2-4 weeks of downtime. It's important to determine whether a patient can take time off of work, school or family before we make a recommendation for which laser to use.
How Does Laser Resurfacing for Wrinkles Work?
The idea behind using lasers to treat wrinkles and skin laxity (loss of skin tone) is to use thermal (laser) energy to stimulate the production of new collagen to improve the elasticity and texture of the skin. There are numerous categories of laser treatments to address these concerns and they include fractionated lasers, radio frequency and non-ablative (no downtime) collagen remodeling.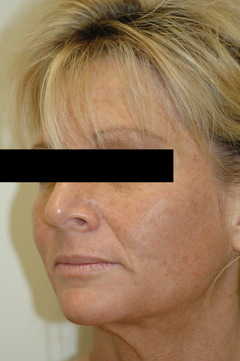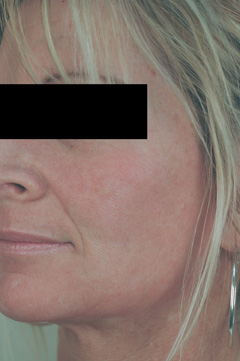 Fractional Laser Resurfacing
Although deep CO2 laser resurfacing was the gold standard 20 years ago, it is not commonly used today. More recently (since 2007), fractionated erbium and fractionated CO2 lasers have become the norm. Fractionated laser resurfacing requires approximately 1 week of recovery, but we achieve excellent improvement for fine lines and wrinkles, especially in the tear trough area (under the eyes), smoker's lines (top lip) and the crow's feet (sides of the eyes). Regardless of which practitioner you choose and which laser they choose, ask for before and after pictures to determine if your particular goals are common for the patients treated at that practice.
Choice of Laser Brand
What is difficult for many consumers to understand (especially those new to lasers) is that the brand of laser is secondary to who is using it and how they are using it. We often have patients call and request a particular brand of laser because their friend or relative had it. What's hard for consumers to understand is that just because the same laser is used does not mean that the results will be similar. Lasers do not work by themselves and a skilled laser practitioner has spent years figuring out how to use a laser in a way to get the best possible results for a particular condition and skin type. So, experience does matter.
---