This is a common question and misconception. Like many skin conditions, the goal of laser stretch mark removal is improvement rather than complete removal. Although there are many practitioners that utilize more than one laser to treat stretch marks, it is misleading to suggest that stretch marks can be completely removed – regardless of the type of technology used.
The one exception is colored stretch marks. Red and brown colored stretch marks can often be returned to the same color as the surrounding skin, provided there is no damage to the texture of the skin.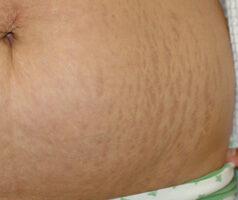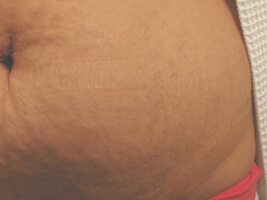 However, knowing that there are viable options for improvement of a permanent condition like stretch marks allows many patients to seek treatments like laser stretch mark treatment anyway. We have found that laser technology is the most effective treatment for stretch marks versus using topical products. Because stretch marks are caused when there is damage to the skin/tissue, using expensive creams and ointments typically does not offer any beneficial outcomes. Lasers differ from these types of treatments because they use light to create a themal inury. During the healing process, the body brings new collagen to the area, thus decreasing the visibility, texture and/or color of the stretch marks.
Whether your concern is the color, texture, or both of your stretch marks – class IV medical lasers offer a good option for improvement.
---