Are you tired just thinking about the time, money and energy you spend just to make sure you have smooth, hair-free underarms and legs? Summer is a fun time of year, but the maintenance and effort necessary to wear shorts, tanks and bathing suits is not fun at all. Or maybe you're embarrassed and aggravated that as a woman, you have to shave off your facial hair every morning before you can step out of the house feeling confident and feminine. Why not put an end to all of this once and for all? There is an easy, fast and effective solution to your unwanted hair woes—laser hair removal!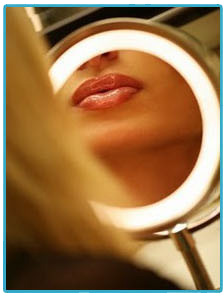 So how do lasers actually work to remove hair? The process is remarkably simple, yet highly effective. From a scientific standpoint, laser technology harnesses the power of intense light energy to damage the follicle. The translation is that lasers zap hair at its root and keep it from growing back…permanently!
Specifically, there are certain lasers that target pigment known as melanin, which is concentrated in the individual hair follicles. When the intense energy of the laser is absorbed by the melanin, the heat that's created damages the structure of the follicle and seals off a small blood vessel that feeds the hair. The net result is: no more blood flow means no more hair!
Celibre Medical Corporation uses three different types of lasers for hair removal. We do this because not every person will respond to or can be treated with the same exact laser. Different skin types (Caucasian, Asian, African American, etc.) require different types of lasers to safely and effectively remove hair. Regardless of the laser that's used, the results are quick. Most people will see less hair after just one treatment! To get the full results of smooth, hair-free skin, a series of treatments done every 6-8 weeks is recommended.
You may think that laser hair removal is much like electrolysis, or that it's more painful than waxing, or less convenient than shaving, but that's wrong! Surveys continue to show that people love laser hair removal! One survey found that 97% of those who'd had laser hair removal in the past year were satisfied with their results; this was much higher than consumer satisfaction with other hair removal methods of electrolysis (70%) and waxing (55%). The reason demand for laser hair removal is growing is because it's a fast, easy and effective way to get rid of unwanted hair.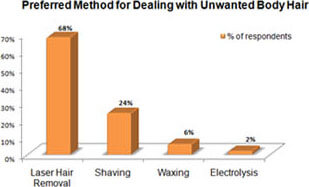 Maybe you think you can't afford laser hair removal? Maybe you should think again! One study looked at people's perceptions of hair removal options: although 68% of people stated that they preferred laser hair removal over electrolysis to get rid of their unwanted hair, 52% said that it was the most expensive way to get rid of hair. But that's just not true! When compared to the total average cost of other services and the cost of razors/shaving cream over a lifetime, not to mention the unsightly razor burn, bumps or irritation caused by all of these other methods, laser hair removal by far is the most cost-effective, convenient and easiest way to remove hair safely and permanently. Yes, it may cost you more up front, but the benefits, results and ease of laser hair removal treatments hands down make it the most affordable and effective option out there!
Celibre Medical exclusively uses FDA-approved lasers for the removal of unwanted hair for patients with any skin type. We have over 20 different lasers in our practice, making us uniquely equipped to select one that fits your needs and hair type. Because we can tailor treatment plans that are customized for each of our patients, we can provide outstanding results, build long-term relationships and make them overwhelmingly happy! We proudly tout our 30 years plus of laser medicine experience and have performed over 75,000 treatments in the past five years alone. If you've only thought about laser hair removal, now is the time to do something. Come see what the premier laser hair removal clinic in the Los Angeles area has to offer and how we can help you get smooth, carefree skin once and for all.


Laser Removal Before and After Pictures
Click here to see the Top Hair Removal Laser

About Unwanted Hair

Laser Hair Removal Treatment