Overview | Treatment | Before and After Pictures
Through the years, Celibre Medical Corporation has performed tens of thousands of laser hair removal treatments, using four different devices. When our patients ask us what the single, most effective laser is for hair removal, we have the experience to answer with confidence that we believe it is the Lumenis LightSheer. Our collective experience as a practice has led us to name this device THE gold standard for laser hair removal for those with fair to medium skin types (Type I-IV).
There are other devices out there that work very well too though; don't let our answer fool you! For someone with darker skin, there are many long-pulsed Nd-YAG lasers (1064nm wavelength) that work great and carry much less risk of unwanted side effects that are possible when using the LightSheer or even other lasers with even shorter wavelengths, like an Alexandrite laser.
And while the Lumenis LightSheer is our go-to laser for most of our patients that want laser hair removal, we also believe that Alexandrite lasers work very well for many of these patients too. We could confidently recommend it as an effective laser treatment for anyone looking for safe and permanent hair removal.
What we don't recommend is IPL (Intense Pulsed Light) treatments for laser hair removal. Because IPL is not a laser, we feel that it's a device that is poorly suited for this purpose. Don't get us wrong—there's a lot that IPLs can do very well! Permanent hair removal just isn't one of them. The reason is because IPL's cannot offer high enough energies delivered in a short enough time span to really heat and damage the follicle effectively enough to prevent further hair growth. While you may temporarily see a reduction in hair, it's not likely to last forever. For this reason, our practice only recommends and uses diode, alexandrite or long-pulsed Nd-YAG lasers for patients seeking permanent and safe laser hair removal options.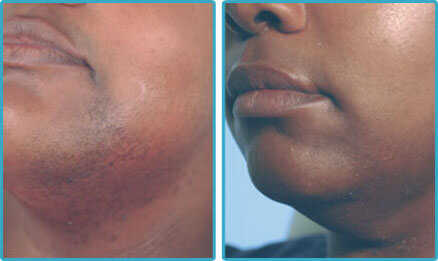 Pictures of Laser Hair Removal Before and After
Type of Laser Hair Removal
Hair Removal Related Links
Preferred Methods of Hair Removal
Questions About Laser Hair Removal
What Can I Expect from Laser Hair Removal?
Is Laser Hair Removal Permanent?
How Do I Choose a Hair Removal Specialist?
Contact us today to schedule a FREE Laser Hair Removal consultation!