We spend a lot of time talking every day, but have you ever wondered what your mouth says about you? We're not taking about actual words of course, but rather the appearance of your mouth and lips. The lower third of the face often gets overlooked in terms of age-related changes. The truth is though that it says a whole lot more than you might like about your age!
The reverse of this is also true; many woman simply plump their lips with fillers such as Restylane or Juvederm, creating an uneven, disproportional and unnatural looking mouth. The real truth is that balance and symmetry are essential when treating this area with Botox and fillers. It can be a very fine line to walk, and the insight and skill necessary can take years for an injector to hone in on and develop. This is why who treats you can be just as important if not more than what they treat you with.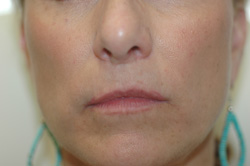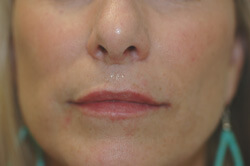 Let's use the woman in the photos on this page to demonstrate some of the very common age-related changes that can occur around the mouth and the effective, yet subtle impact that cosmetic injections can have in this area of the face.
Notice in her pretreatment picture that the area between her nose and upper lip appears flat and elongated. This happens because the muscle that encircles the mouth (like a purse-string) repeatedly contracts, pulling the upper lip down and curling it inward, toward the teeth. You don't see them as much on this patient, but tiny, vertical lines (smoker's lines) that appear above the upper lip also form in response to this muscle's repeated contractions as we age. Notice how her mouth is almost turned down at the corners and how her upper lip appears much thinner, smaller and out of proportion with her lower lip.
Now, take a look at her photo after injections of Botox and dermal fillers. Wow! Big difference, huh? A very small amount of Botox was injected into the muscle around the mouth, softening its downward and inward pull on her upper lip. Hyaluronic acid based dermal fillers such as Restylane and Juvederm were also used to reshape her mouth by careful injections into the border of the lips (vermillion border). Combined with the Botox, this has the effect of rolling the upper lip out and upward (lip eversion), effectively shortening the distance between the nose and upper lip.
She also had a bit of filler placed in the red part (mucosa) of the lip, restoring the balance between her upper and lower lip as well as the proper proportion. Last but not least, a small amount of filler was added under the corners of her mouth. By replacing this small amount of natural volume that she'd lost with age, the corners turned up slightly. The overall appearance of her lips and mouth area is much more pleasing to the eye and looks totally natural, youthful and beautiful!
---