As patients, and even as injection practitioners, we sometimes overlook the importance of the "south" end of our faces. Specifically, that little muscle that works overtime but gets little attention…the chin. The chin muscle, also known as the mentalis, can become quite a challenge when exercised too much.
For those that tense up the chin area, or are prone to clenching of the jaw, the chin may take on a dimpling effect. Using Botox and Dysport to relax this area is an inexpensive way to tame this pesky muscle. Besides having a smoother tablecloth over the chin, when relaxed, we keep the chin from wanting to become knobby and curled upward over time.
Dysport to relax the chin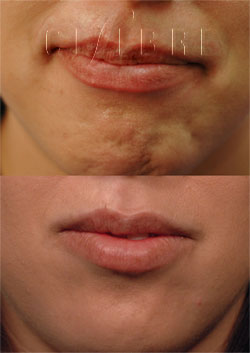 Using dermal fillers such as Restylane or Radiesse, we are able to create a much smoother canvas to better blend the peaks and valleys that are created from over-active muscle movement in the lower face.
Restylane filler for shaping the chin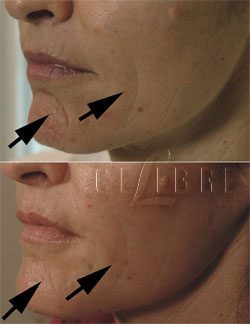 Lasers offer a sophisticated approach in resurfacing the topography of the skin by literally removing microscopic pieces of wrinkles and lines to produce new skin and collagen absent of the memory of those wrinkles. Deep fractionated technology has given us an entirely new and better approach to this endeavor.
Photo 1 – Deep fractionated laser resurfacing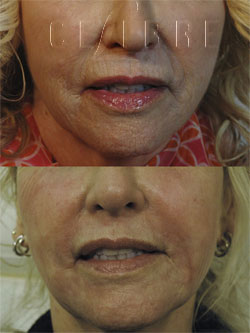 In many cases, a combination of any of these 3 approaches may be the best recipe. As with all injection treatments, let us remember that the canvas of the face should be approach as a whole. Giving equal attention to all areas provides for synergy and balance.
---