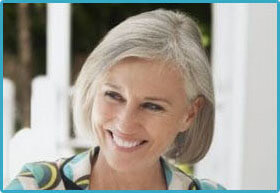 Has your chin changed as you've aged? Do you notice that your once full, rounded chin looks angled and sharp? Chin rejuvenation with dermal fillers may be just what you need to help your chin (and face) look full, round and balanced again.
The chin area can lose volume as we age, much like our cheeks, tear troughs and lips. And like these other areas, dermal fillers can be used to help reverse unwanted changes. If your chin is hollow or has convex (like a bowl) depressions on both sides, dermal fillers can be used in this area to reshape and restore your chin. Restylane and Restylane Lyft are two of the fillers that we will most commonly use to get the job done in this area.
Take a look at the patient below. We used a combination of both Restylane and Restylane Lyft to reshape her chin. The rounded chin is softer, more youthful looking and helps the lower part of her face taper in a smooth line.
To learn more about how dermal fillers can be used to restore a more youthful look, return to The Art of Facial Shaping
The patient below received Perlane Injections and Restylane Injections to add volume to the chin and achieve a more youthful look.

View Some of our Restylane Before and After Pictures
Contact us today for a FREE Restylane or Perlane Injections consultation!