Overview | Treatment | Before and After Pictures
If you think that laser hair removal is too expensive, then think again. Do some simple math: think about how much you spend on waxing, shaving, shaving supplies and/or electrolysis (or any other method of hair removal) in one month. Now, multiply that by 12, and then consider that cost (which will inevitably go up each year) every year for the rest of your life. Kind of expensive, huh? Laser hair removal is a very cost effective way to get rid your unwanted hair because it's permanent hair removal. That's right! When the hair is gone, it's gone for good!
You may wonder how laser hair removal is priced? There are several factors involved: your skin type (color), the size of the area being treated, the type of laser that's being used for your treatment, the experience of your laser practitioner and the number of total treatments you'll need to get results are a few of the main ones. When you think about all these, it's easy to see why the price of laser hair removal can vary from one place to another.
We'd like to point out two of the most important factors that 99% of people considering laser hair removal never think to ask about very much: the laser that is being used and the number of total treatments needed to see results. Our experience in talking with people is that they usually just ask about what the cost is to treat a certain area. And while it's certainly important to know what your overall cost is going to be, we would like you to consider what it is that you're really paying for.
Facilities that offer sub-par technology may offer cheaper prices, but they may also take many more treatments to see results, and your hair may come back! So, this means you're paying less now, but could be paying more again down the road when you could've just spent a bit more up front and got it done right the first time around.
Celibre Medical believes in using only the most effective, FDA-approved devices for laser hair removal. When we perform laser hair removal on the face, back, bikini area, legs or any other area, we average about 6 to 8 treatments total to achieve 75% – 90% permanent reduction in hair growth. When you chose Celibre Medical for laser hair removal, you can rest assured that you are receiving the most effective, efficient treatments possible given by the some of the most highly qualified and experienced practitioners in the medical laser business. Come see how we do laser hair removal better by scheduling your free consultation with us today.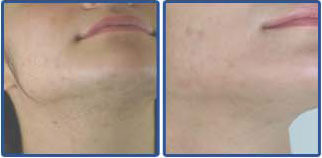 Laser Hair Removal Before and After Pictures

     Our Laser Hair Removal Equipment
Contact us today to schedule a FREE consultation!