Overview | Treatment | Before and After Pictures
Are you ready to try laser hair removal? If so, here's a guide to help you find a quality practitioner. Finding somewhere to have laser hair removal today is pretty easy. It seems like almost everyone is offering it—even some people and places that shouldn't be! But, choosing a safe, experienced and highly trained laser hair removal practitioner is a much harder process. Here are a few questions to ask if you are doing a consultation for laser hair removal in the Los Angeles area:
How many laser hair removal procedures has the laser practitioner that's doing my treatment performed? While it may seem silly to ask for a number, do it. The state of California does not currently have any training requirements for a nurses or physicians to perform laser hair removal. That's right: you do not need any prior experience to fire that laser on someone! And while it may seem simple enough, it actually requires a wide range of knowledge and skill to successfully and safely perform laser hair removal on different skin types with different devices. You want to know that the person performing your treatment (nurse or physician assistant) has plenty of experience under their belt to keep you safe while giving you the best results possible.
What kind of laser is being used for my laser hair removal treatment? Do not assume that all lasers that are used for laser hair removal are created equally! You need to research this one because the device that is used can not only be unsafe for your skin type, it may also not give you the results that you are spending your money for! This means that it may take you more treatments to get results, or worse, you may not see results at all.
How many laser hair removal treatments will I need? This answer really should be given in the answers to questions number one and two above. In the hands of a knowledgeable, experienced laser practitioner who is using the right device for your skin type and hair, you will see great results in the fewest treatments possible. At our practice, 6-8 visits to achieve 75% – 95% permanent hair removal is average.
What percentage of hair can I expect to lose? Even though it's called laser hair removal, it doesn't actually remove all your hair. Our practice sees about a 75% to 95% reduction in hair in each area over 6 to 8 treatment sessions. So, you may need more or less treatments depending on your skin type (color), your hair and the device that's being used.
How often will I need treatments? Different areas of the body grow hair at different rates, so the exact answer to this question really depends on which area you are treating. In general, the average time between treatment session is 6 to 8 weeks.
What is your rate of side effects? This one may be hard to ask, but it will let you gauge if your potential practice/practitioner is honest and forthcoming about what they do. No matter how careful, experienced or trained you are, adverse reactions happen. In our practice, we see about three adverse events for every 1,000 treatments that we provide. Our practice carefully matches numerous laser hair removal devices to our patient's needs. Other practices may use a one-size-fits-all approach, so they may have higher numbers. If someone can't answer the question or says they don't have adverse events or side effects, then you'd better keep looking.
We understand that it is easy enough to find a place to do your laser hair removal, but we really believe that despite its prevalence, it's a procedure that takes expertise and skill to perform safely and well. You have to ask questions and do your research to make sure that you are not only getting what you're paying for, but that you're not putting yourself at risk. If you'd like to speak to us more about your laser hair removal needs, please call us today to schedule a free consultation. If you're interested in learning more about laser hair removal, please visit our laser hair removal overview page.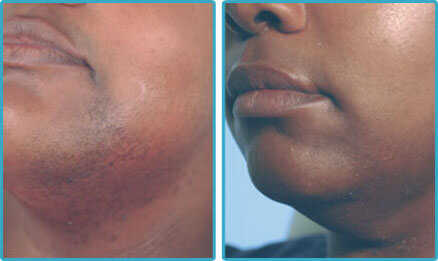 * Laser Hair Removal Before and After Photos
Type of Laser Hair Removal
Hair Removal Related Links
Preferred Methods of Hair Removal
Questions About Laser Hair Removal
What Can I Expect from Laser Hair Removal?
Is Laser Hair Removal Permanent?
How Do I Choose a Hair Removal Specialist?
Contact us today to schedule a FREE consultation!