Overview | Treatments | Before and After Pictures
We understand that cost is an important factor to you when deciding where to go for your laser hair removal. If you've read through our other information on this topic, then you understand that we take a very individualized approach that many other providers of laser hair removal services may not. At Celibre, our focus is on getting you the best results safely and in the shortest amount of time. We believe that because of this, we offer incredible value that is hard to find anywhere else.
In the Los Angeles area, most providers of laser hair removal services charge by the area. We've found that the price range is $50 per treatment and goes all the way up to thousands of dollars for full body hair removal. Most of the time, the cost of treatment is based on three factors: the number of areas treated, the type of laser technology used, and the amount of time it takes to do your treatment.
We base our prices on these things as well. And we also take the time to ask the questions that help us determine how to best treat you. That is what makes Celibre Medical a superior choice for your laser hair removal. Still, we know there are a lot of other providers out there. If you're shopping around, instead of just focusing on the price, we suggest you consider these important things as well:
How many devices for laser hair removal do you have available to you at the facility? Remember, not every device is suited for every skin or hair type. Permanent hair removal depends on choosing the right one. And the very last thing you want or need is an unwanted side effect such as a burn because the facility used the only device they had available on you when it wasn't the best choice to begin with. At Celibre, we offer laser hair removal with three different devices, which we've found can cover just about any type of hair on any skin type.
Experience matters. This is not only true for obvious safety reasons, but it can also affect your overall cost too. If your provider doesn't understand when to have you come back to effectively treat the next cycle of hair growth, then you're going to pay for something that won't be effective. No one wants to waste money.
Many laser facilities will use an IPL or Intense Pulsed Light device for hair removal. While IPL is great for photorejuvenation, it's really not a good choice for hair removal. Our experience has been that you will see some temporary hair reduction after treatment, but not permanent removal. So remember to ask what specific technology will be used for your treatment.
Lastly, remember that while the price per treatment may be lower, be sure to factor in the total number of treatments that are recommended when figuring your overall, total cost. Again, we can't overstate the importance of choosing a facility that not only has the appropriate technology for your skin type, but also one that has laser practitioners with extensive knowledge and expertise. These are so important when considering where and who to go to for laser hair removal. There is ultimate value when safety and efficacy are not only your top two criteria, but also the top two concerns of your laser hair removal provider as well.
We want you to know almost as much as we do about your laser hair removal treatment at Celibre Medical. We encourage you to give us a call today. We'd love to discuss how we can help you safely and permanently get rid of your unwanted hair.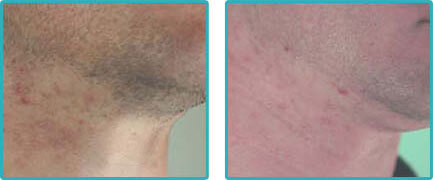 View more laser hair removal before and after pictures
Laser Hair Removal Topics
What Can I Expect from Laser Hair Removal?
Is Laser Hair Removal Permanent?
Laser Hair Removal Side Effects
Contact Celibre today for your FREE laser hair removal consultation!     


     Top Hair Removal Lasers