Do you have a red or purple colored birthmark that you've always wished you could magically make disappear? While it isn't magic, laser treatment is a great option for you to consider if you're suffering with an embarrassing vascular birthmark known as a port wine stain. Many men and women struggle with them and because they can be made up of many, many tiny blood vessels in the skin, they can be difficult or impossible to cover with makeup.
Pulsed dye lasers specifically target the hemoglobin that is part of a red blood cell. This makes this laser perfect for treating unwanted blood vessels, because the laser energy is absorbed by the blood inside, which transfers to the vessel wall, causing it to collapse and go away. Although each port wine stain is different, many people are thrilled with the improvement that they see after the laser. Figuring out how many treatments you will need will depend on how big your birthmark is and how dense the blood vessels are inside it. We do know from good research studies that some port wine stains on certain areas of the body respond better than others, so the location of yours will play a role too.
We also know that while you may want your birthmark to completely disappear, many times that just isn't possible, even with a full series of treatments. We always discuss this possibility with all our port wine stain patients seeking laser treatment. We want you to know before you start what you can expect by the end of your treatment series. We want to under promise and over deliver on your results! We use the newest generation of pulsed dye lasers to treat port wine stains, giving you our guarantee that you are getting the strongest, most state-of-the-art technology available today, but even still, some of these birthmarks don't disappear completely.
Please take a look at the photos of our patient whom we treated below. Although she didn't complete the series of the recommended 8 to 12 treatments, she had about 75% clearance of her port wine stain after just 6 treatments. We will always fade and improve port wine stains with the laser, which for many people, makes them ecstatic!
If you have a port wine stain and are interested in learning more about our vascular birthmark laser treatment program, please give us a call today to schedule your free consultation. We would love to discuss if this potentially life changing treatment is right for you!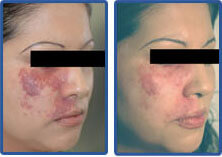 Birthmark Before and After Pictures
See our Skin Care Lasers   

Contact us today to schedule a FREE consultation!