Having laugh lines may not be so funny to you! Those deep creases that start at the sides of your nose and extend to the corners of your mouth can make you look anything but happy! They can make your face look heavy, long and sad, and make you look older than you are. What is the answer? Hyaluronic acid (and other) dermal fillers are a great solution to correct this common problem.
First, these lines form as we start to lose volume in our face with aging. The structures in our cheek begin to slide downward as we lose the support in the area around our mouth. Correcting this problem with fillers can take years off your appearance and give you something to really smile about!
A dermal filler such as Restylane can not only replace much needed volume, but also provide increased hydration to the skin around the mouth, which plumps and firms the skin in addition to filling in the crease.
If your laugh lines are making you frown, then come and see us at Celibre Medical. A consultation on how dermal fillers can help transform your appearance and help you look years younger is completely free. Please give us a call today!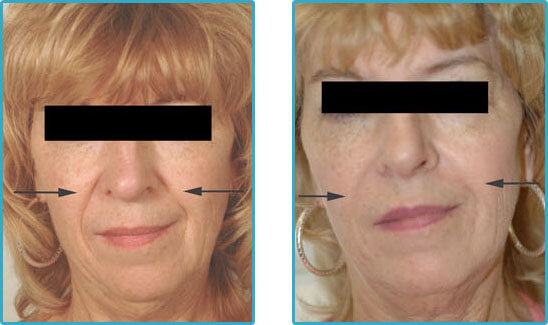 View more Restylane Before and After Pictures
Return to The Art of Facial Shaping
Contact us today for a FREE Consultation!