Ever wonder what to call that v-shaped sun damaged area on your chest? The one that you wish you could even out so that it doesn't show when you're wearing that new off the shoulder dress.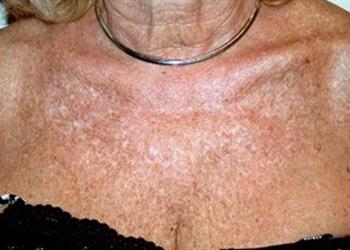 "Poikiloderma" is the fancy name for photo-damage to the neck and chest areas. This condition has a distinct look of red, brown, and even white areas. The texture of the skin can also appear leathery with time. Men generally have this condition on the sides of the neck whereas women tend to get it mostly on the chest in the V-neck shape.
At Celibre Medical, we use a combination approach to treat the condition. This includes the pulsed dye laser (VStar/VBeam) for red pigment, q-switched lasers for brown and BBL (Broad Band Light) to for overall evening in color.
Some signs that you may have Poikiloderma:
*Red, brown, or both colors
*Areas of light skin (most severe form of sun damage where skin has lost pigment)
*Rough texture
*Leathery appearance
*Sides of neck, back of neck, chest
Treatment Plan:
*Responds best to laser and BBL treatments that target the red and brown color separately
*Laser first and then BBL (Broad Band Light) for evening the tone
*Determine which color should be addressed first.  Our goal is to "take off one thing off the plate first." Meaning, remove the red before addressing brown or vice versa.
*Laser every 4-6 weeks
*Average is 6 to 8 treatments using 3 different laser/BBL devices
*Some Social downtime expected with bruising of skin often required to remove redness.