Does your skin look tired or dull? Are fine lines or crepiness showing up around the eyes and cheeks? If so, Retin A may be just the option you are looking for.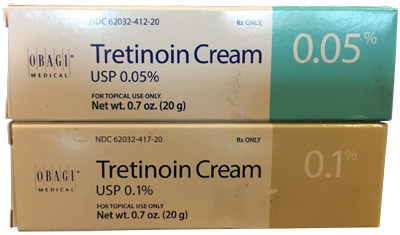 No one challenges Retin A's reputation as the "gold standard" of skin care products. It allows for sloughing of skin cells to bolster skin thickness and collagen production. It's ideal for facial wrinkles, lines, and sun damage.
Although laser treatments are our specialty, some patients just can't have the downtime associated with laser resurfacing. So, while patients wait to set aside the time for laser resurfacing (and even after their treatments), Retin A helps keep them looking refreshed.
Retin A is a workout for the skin. It causes dead skin to flake off and in the process increases the cell reproduction rate. This means instead of having dead skin showing through, you have new skin cells at the surface, hence the healthy, vibrant and refreshed look. When a patient's skin is unable to tolerate Retin A, or an individual prefers less of a skin reaction to a topical product, Glycolic Acid products are an excellent alternative.
Regardless of which skin care product one chooses, having routine exfoliation through topical applications is the true gold standard for healthy and revitalized skin. Don't forget that daily sunscreen as being the best skin anti-aging habit!
---