Vascular Birthmarks Laser Removal | Treatment | Before and After Pictures
Because the size and area of the body affected can vary for every patient with a port wine stain, there really isn't one, single answer to this question. Remember, this process can be pretty lengthy and may not always end in complete or total disappearance of your port wine stain. Our experience has been, however, that a majority of the time, we can achieve results that absolutely thrill our patients. That is always our number one objective!
Having said that, treatments with our Cynosure and Candela pulsed dye lasers generally run anywhere from $275-$550 per treatment. Again, everyone responds differently, and so the number of treatments may be something that is variable for each person. We will always do our best to give you the most accurate and honest assessment of how many treatments we think it may take for you and what your expected results will be.
We also encourage you to consider the experience and technology that is being offered to you if you're shopping around for laser treatment for your port wine stain. Ask questions. How many treatments has the provider performed? How well do they know port wine stains? What laser are they planning to use? These are all things that should be important when considering the total cost of your treatment. Often, the cheapest provider may not be able to give you the most satisfactory answers to all of these questions.
At Celibre, we think peace of mind has value. We promise to only use the most up-to-date and state-of-the-art technology to treat your port wine stain. And all of our expert providers have years of experience using pulsed dye lasers to treat these types of vascular birthmarks.
Please give us a call today. Your consultation is free and we'd love the chance to meet with you and explain how our laser treatment program for port wine stains is a step above the rest.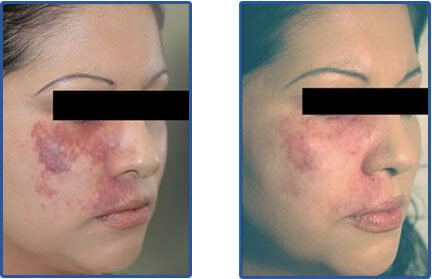 * Vascular Birthmark Removal Before and After Pictures
Contact us today to schedule a FREE consultation!