Overview | Laser Acne Scar Removal Treatment Program | Before and After Pictures | Costs & Prices
---
At Celibre Medical, we offer several options for acne scars and the treatments vary based on the type of scars. Procedures include laser resurfacing, steroid injections, topical products, Restylane or Perlane injections and other types of laser treatments.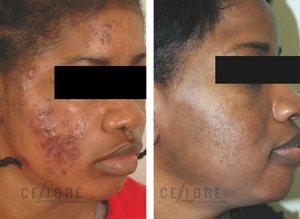 We use laser resurfacing, kenalog (steroid injections) and dermal filler injections for textured acne scar treatments.  Ablative laser resurfacing (fractional) is used for smaller and deeper pinpoint, ice pick and boxcar scars.  Steroid injections are used for raised or bumpy acne scars.  Finally, hyaluronic acid based products such as Restylane or Perlane are used for wider rolling (depressed) acne scars.  The injection products do not have any downtime, but fractional laser resurfacing usually requires a 4-7 day recovery period.
Successfully treating pigmented acne scars can be accomplished with lasers or topical products.  Red acne scars typically seen in lighter skin types are straightforward to treat using pulsed dye lasers.  Brown acne scar associated with darker skin types can be treated with bleaching products such as hydroquinone or q-switched laser.
To find out which option would be right for your acne scar treatment, call today for a free consultation.
Laser Acne Treatment equipment

Contact us today to schedule a FREE Acne Scar Removal consultation!