Syringomas are small lesions (1-3mm) that generally appear under the lower eyelids. These skin lesions mostly affect females and usually begin in puberty. Syringomas appear as soft, yellowish papules (raised bumps) and do not have any symptoms associated with them. Although syringomas are considered benign, they may represent a significant cosmetic concern for many.
Syringoma Removal Orange County by Celibre Medical Laser Dermatology.
Schedule a FREE consultation for Orange County laser syringoma treatments, celibre.com/contact-list.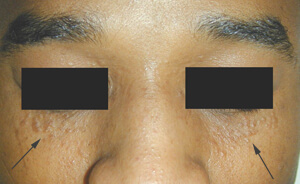 Currently, there are only two recognized methods for removing syringomas – electrodessication and/or class IV medical lasers. These lesions will not go away without intervention.
The Erbium MicroLaserPeel is an ablative laser that may offer good outcomes. However, if the lesions are too close to the lower lid or eye area, treatments with this method may not be recommended due to eye safety concerns.
Lori Haney, RN, MEP-C
Certified Medical Laser Safety Officer
---