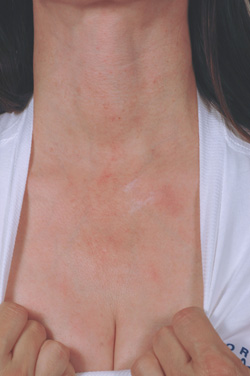 Poikiloderma is a term that is used to describe sun damage (photo-damage or photo-aging) to the sides of the neck and chest area. Photo-damage leads to brown and red discoloration that gives a rough or ruddy appearance to the skin on the chest.
As the texture of the skin on their chest changes, our female patients complain of a leathery look and feel to the skin. This leathery feel, combined with brown and/or red damage is what is commonly referred to as Poikiloderma.
Usually, a combination of lasers is used for effective Poikiloderma treatments. One laser is for redness while another is for brown sun damage. The patient's skin type (color) is an important factor in determining how many laser treatments may be required for optimal poikiloderma results.
Some skin types are safe for aggressive pulsed dye laser treatments whereas others are more safely treated with non-aggressive treatments. Generally speaking, most patients receive good outcomes with a minimum of 6 "no downtime" treatments.
---