Although pulsed dye lasers are very effective in treating port wine stains (vascular birthmarks), it is difficult to determine how many treatments will be required for optimal results. Much is contingent on the size of the birthmark, the depth in the skin and how much vascularity (blood vessels) there is. Research shows that the location of the port wine stain also dictates how quickly the lesion will respond.
The goal with port wine stain birthmark removal is improvement rather than complete resolution. It is not possible to say when we begin a laser birthmark removal program if we will be able to achieve 100% removal of the birthmak so starting with the expectation that significant improvement (rather than complete resolution) will be achieved is the smartest way to approach the treatments. For port wine stains, fading of the birthmark with the newer generation of pulsed dye lasers offers patients a great way to minimize the appearance of port wine stains.
Port wine stain removal program, celibre.com/vascular-birthmarks-laser-treatment-removal-overview
Schedule a free consultation for port wine stain treatments at celibre.com/contact-list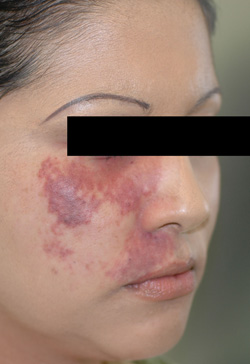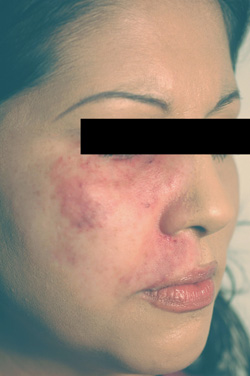 Before and after photos by Celibre Medical, celibre.com/vascular-birthmarks-before-after-pictures-photos
For this case above, the patient received 6 laser treatments. 8 – 12 treatments were recommended and the patient did not finish the program, although she did receive about 75% clearance of the birthmark.
Lori Haney, RN, MEP-C
Certified Medical Laser Safety Officer
---