If you're considering dermal filler injections for mouth or lip augmentation, there are several important things you should know before your procedure. First and foremost, you can't (or shouldn't) take a photograph to your injector and say, "I want lips like these!"  Unlike haircuts where a certain one may look good on many different people, your facial features are distinctly yours! It's impossible and just not aesthetically pleasing to simply recreate someone else's lips, nose or otherwise on your face.
The goal of lip and mouth augmentation is to make you look like a better version of you. Whether that's restoring lost volume in your lips or around your mouth, correcting/softening lines around your mouth, or restoring features that have changed or been lost over time in this area, the techniques used should help you look more youthful with soft and rounded features—not like a pouty, fish-lipped, obviously over-filled Hollywood celebrity!
At Celibre Medical, we use a combination of both dermal hyaluronic acid (HA) fillers like Restylane and Juvederm with Botox / Dysport to fill and shape the lips and mouth.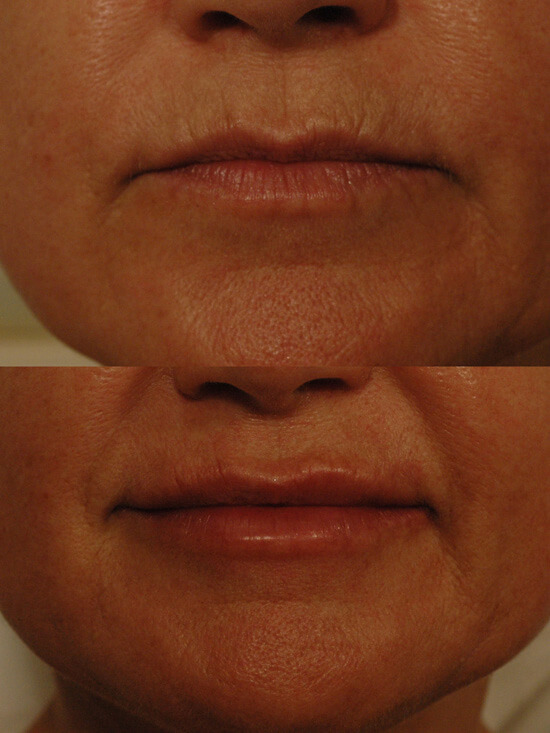 How Celibre Medical's Approach is Different
We use HA fillers to add volume and definition to the lips. We can enhance and redefine the lip border with these products and reshape the mouth by carefully placing product just outside the corners, helping to turn them up and giving you just a hint of a smile. If your lips appear "deflated" with wrinkling, HA fillers can help restore soft, natural looking volume and soften those wrinkles.
The ideal lip proportion is the bottom lip just slightly larger than the top. If your lips have always been disproportionate or if they've simply just thinned out over time, HA fillers can restore or establish a more aesthetically pleasing proportion to your lips.
Aging can also trigger changes in facial boney structure and soft tissue which elongates the space between the base of your nose and your upper lip. It can also make your upper lip appear as if it's turning inward or rolling towards your teeth. HA fillers can help restore your lip volume and return the appearance of the area around your mouth to what it was in your younger days.
One of the most common complaints from patients like you is those little vertical lines that appear around the edges of the mouth. Not so affectionately known as "smoker's lines", they can appear on someone who's never smoked a day in their life! We've seen many women mistakenly take to removing all straws and bottles from their daily lives to prevent smoker's lines, but we're here to tell you that's not why they happen either!
It is actually a combination of factors that create smoker's lines. Number one, repeated contractions of the circular, purse-string-like muscle around the mouth is the underlying issue, but secondly, the loss of collagen and elastin in the skin just around the lips also contributes greatly.
Many injectors will simply try to place small amounts of filler in these lines, in an attempt to smooth them out. This may work for some, but for many, it just makes the lips look disproportionate and the top lip look heavy.
Here at Celibre Medical, we address the underlying muscular issue with Botox or Dysport. Subtle relaxation of the muscle will improve the appearance of the lines. We couple this with dermal fillers to redefine the border of the upper lip.  This helps to soften the appearance of these lines, without injecting them directly. Using these combined techniques over the years has also shown us that many patients get a subtle lip eversion. This means the upper lip gently rolls outward and upward. This helps the upper lip look even fuller and shortens that distance between the lip and base of the nose, a win-win!
As you can tell, there is a lot of artistry, skill and knowledge that goes into lip and mouth augmentation. Before you book and appointment with an injector, make sure that you look for some before and after photos that demonstrate their skill. Also, make sure you understand the benefits and limitations of this procedure, so that you're pleased with your results. If you'd like to learn more about Celibre Medical's philosophy on using injectables and lasers for facial rejuvenation, please visit our laser and injectables for wrinkles page.
---