Have you noticed that your face is aging, but you just can't put your finger on what's changing? Maybe you're a woman in your 40's or 50's and you've had dermal fillers in your laugh lines and/or nasolabial folds, but you still don't see the youthful look that you want to. It's possible that even though the lines around the nose and mouth are diminished, your injector is overlooking a major feature that often ages a woman's face as she gets older: hollow cheeks.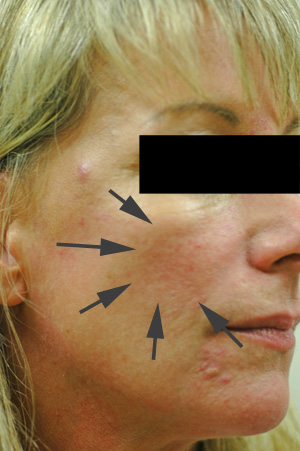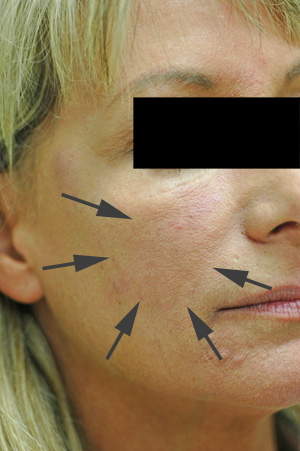 Restylane before and after pictures
When dermal filler injections first became popular, injection techniques focused on filling individual lines, creases and wrinkles. Today, we've moved away from that mentality. Although we often still correct individual lines, we tend to view age-related changes as more of a global facial issue.
In today's aesthetic industry, we often evaluate the face in thirds: the upper third (eyes, temples, forehead), the middle third (cheeks), and the lower third (mouth, chin and jaw). For middle-aged women, the middle third of the face is the area that is the most severely affected. Changes to and depletion of the underlying bone, muscle and fat lead to a flattening of the cheek, making it look hollow. Youthful cheeks are round and full, as are the cheekbones. Dermal filler injections – products such as Restylane, Restylane Lyft and Juvederm – are used to re-volumize the cheeks.  Cheek augmentation involves the placement of dermal fillers in areas of the cheek to restore softness, fullness and a more youthful shape.
Facial shaping with dermal fillers can be a complex process. Injectors must have a fundamental understanding of facial anatomy, as well as the ability to assess and analyze each patient's individual features.  Finally, extensive knowledge is paramount to determining which dermal filler products will provide the best aesthetic outcome and long-lasting improvement.
If you're not seeing the improvement you'd like from your dermal filler injections, it may be that your injector doesn't have the knowledge or understanding of more recent advances in facial aging.  There is so much more the just injecting the products and this is one of the reasons that the cost of dermal filler injections can vary. The skill and knowledge level of your injector is the major factor when it comes to looking unnatural or looking amazing.
Read About All Celibre Medical's Facial Shaping Techniques
Contact us today for a FREE consultation
---