Think you need eyelid surgery to look better or younger? You may want to think again. Non-surgical treatments for rejuvenating your eyes can have a big impact on your appearance and are in some cases, are a better answer for erasing those pesky crow's feet.
If you are under the age of 60, and tired of seeing those horizontal lines at the outer corners of your eyes—also known as the crow's feet—here are the top four treatments that can help you smooth out those wrinkles and take years off of your appearance.
Botox & Dysport for Crow's Feet
Dysport and Botox were tailor-made for the crow's feet. Because your crow's feet develop from the repeated contraction of the circular muscle around your eyes Botox and Dysport can relax the muscles and erase the lines.   What you'll end up seeing after treatment is your same, beautiful smile, but no wrinkling and/or puckering skin at the corner of your eye. And that is something to really smile about!
No Downtime Laser Resurfacing for Crow's Feet
Let's say you've had Botox or Dysport treatment and that's helped, but you still see etched-in lines? Or what if you just don't want neurotoxins at all? If you're busy and want to do something different or more, but don't have any downtime to spare, consider non-ablative, no downtime laser resurfacing.
Here at Celibre Medical, we use both the Quantel Aramis and Palomar q-switched laser to firm and tighten this area and smooth away crow's feet. These devices produce heat in the skin beneath the surface without damaging its outer layer. This stimulates new collagen and helps improve their appearance.
With the benefit of no downtime, however, come a few drawbacks. Your results will be more gradual and more limited than Botox or a full laser resurfacing.  You will likely need several treatments, but, if downtime is an issue for you, these treatments are a good option!
Fractional Laser Resurfacing for Crow's Feet
If you can spare a few days to heal, then fractional laser resurfacing may be the treatment for you. Our go-to device for this type of laser resurfacing is the Sciton Profractional. It works by creating thousands of microscopic perforations in your skin. Each of these is its own separate "micro" wound that your body must create new collagen to fill. The end result is almost entirely new skin and collagen around the eyes which helps your skin look smoother and tighter while reducing the appearance of your crow's feet.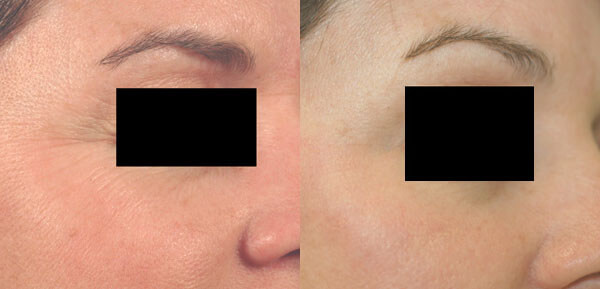 Laser Resurfacing for Crow's feet
This treatment is more aggressive than the one discussed previously, but also has more dramatic results. The trade-off is that you need to take 5 to 7 days (in general) to allow your skin to heal before you return to work and or other activities.
Skin Care Products
Keep in mind as you're reading this that these treatments can all be used in combination with one another. This last option is no different. Instead of thinking that one is "better" than another, consider them all to be complimentary. Proper skin care products can help your crow's feet too, but will often be most beneficial when used with one or more of the treatments that we've already discussed.  For skin care around the eyes, Retin-A products and glycolic acid-containing products can both be the "icing on the cake" to any of the previous treatments and they work by refreshing the skin because of their exfoliating properties.
Celibre Medical has numerous options that can fit any skin type (sensitive, etc.) and budget. If you're serious about making an investment in the appearance of your eyes, talk to us about injections, laser treatments or skin care products!
---