We get calls every day from patients asking about the price of Botox. Because we are a cosmetic dermatology facility and all of our services are paid for out of pocket by our patients, we understand how important the price of the service can be.
One consideration that some consumers overlook when searching for a Botox Injector that they are paying as much for the time and expertise of their injector as they are for the product itself. As with any service, skilled providers usually have higher prices. So, the next time you are considering a Groupon for Botox, consider that maybe the reason the practice is offering that service is that they cannot fill their treatment rooms with patients that are willing to pay full price!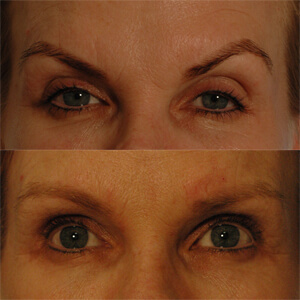 Cheap Botox Injections (top) and after we fixed them (bottom).
To highlight this issue, we have included a case study above with a patient that came to our practice after having bad (and cheap) Botox injections for years. She had a very unnatural looking brow-line with accentuated arches at the outer brow. It was almost witch-like in it's appearance and was not flattering for her.
To correct the situation we smoothed the forehead and frown lines, but at the same time relaxed the arch of the brow so that it settled down and became more natural looking. Her forehead looked smooth and relaxed after the treatment, but without the accentuated brow arch that made her look unnatural previously.
If you are interested in balancing the cost of your Botox injections with the skill of a master injector, then you've found the right place. Call today fro a free consultation.
---