Over the last several decades, hydroquinone, (HQ) has been become the gold standard treatment for many skin conditions that require lightening. As the use of hydroquinone has grown, there has been much debate as to whether it's safe and effective.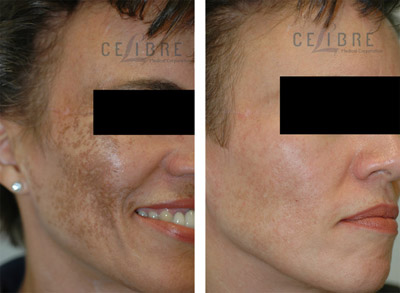 One study commonly cited as evidence for the link between hydroquinone and cancer was based upon oral ingestion of hydroquinone in lab rats and mice. Although there is value in extrapolating information from research such as this, it was recognized that the studies were lacking and are now considered outdated.
Further, there are also reports of hydroquinone use and darkening of the skin – a condition referred to as ochronosis. Although possibly underreported, ochronosis cases are very rare and associated with sun exposure, and prolonged use at high concentrations. The FDA has called for more current and inclusive studies that focus on the dermal application (on the skin vs oral) of hydroquinone to determine its effect on humans.  The FDA's position that hydroquinone is generally safe and effective.
Currently, HQ is available without a prescription in numerous over the counter products at 2% concentration. Typically, 4% is what most physicians prescribe and is also found in Obagi and other name brand products. Anything above 2% is considered a prescriptive product and requires a prior exam by the physician, Nurse Practitioner, or Physician Assistant. This fact is important because consumers routinely purchase these products online or even at Medical Spas without going through the required prescription exam. Those practices dispensing or selling anything above 2% HQ without the required medical exam are breaking the law.
The potential adverse side effects of HQ are directly related to improper use of the product. Rather than the percentage of HQ, the more concerning factor is prolonged and uninterrupted usage of the product. For example, consumers often purchase numerous HQ products for use simultaneously. Without proper supervision and instruction, consumers expose themselves to risk by using low percentages of HQ for an extended period of time. Continuous use is where the risk lies.
At Celibre, our position is clear: hydroquinone is safe and effective when used appropriately.
Appropriate use of Hydroquinone:
Prescribed by physician or physician extender for the purpose of addressing brown pigmentation on intact skin.
Proper screening to eliminate questionable candidates (liver disease)
Education – patient discouraged from using multiple products of HQ and to adhere to safe protocols
4% and 8% concentration.
Limited Sun Exposure.
Limited consecutive usage, not beyond 90 days without a 30 day break.
Non-HQ program to sustain benefits when on break from hydroquinone.
Because hyperpigmentation (ex: brown discoloration) can be distressing for our patients, the topical HQ program is an excellent option.
---