Overview | Treatment | Before and After Pictures
Here's the bottom line on Latisse: it works and people love it! It is hard to find a product that everyone loves, and it's even harder to find a product that works for everyone who uses it, but Latisse fits both bills all in one, little, neat bottle! When used consistently for the recommended 12 to 16 weeks, we have yet to have one patient tell us that they don't love their results. In fact, we've never had anyone return a single bottle to our office! One of our Latisse patients told us recently that she had to stop using it every day because it was making her lashes so long, they were rubbing on her eyeglasses every time she blinked her eyes! Not a bad problem to have, huh?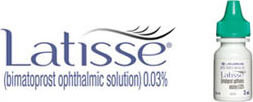 Latisse is truly the only product on the market that delivers consistent, amazing results. So many of our patients have not only told us this time and time again, but they have also started to use it "off label" in areas other than the lash area to stimulate hair growth. Thinning eyebrows beware—Latisse probably works just as well for this common problem too! We haven't followed this one quite as closely, but it seems that the consensus is that Latisse can pretty much enhance your hair growth anywhere you use it!
You're most likely asking yourself "does anyone not like Latisse?" and the answer is yes. We have heard negative reviews about Latisse; but only in the context of someone who bought it and wasn't educated about how it works. When you only use it for a few weeks (a long time by today's standards) it doesn't really do much at all. In fact, you may not see any change! We really hate when this happens. It's not only a waste of money and time for the patient, it promotes a "bad rap" about an outstanding product!
If you're thinking about trying Latisse for your eyelashes, we say "go for it!". Start out knowing that you will most likely need to buy that second bottle to have enough to get to the recommended 12 to 14 weeks to see the full results. Hang in there though! We promise you will love the way it makes your lashes look!

Visit the Latisse Eye Lash Enhancement before and after photos
Contact us today to schedule a FREE consultation!