Are you bothered by the shape of your nose? Trying to smooth out a lump or bump but don't want to go under the knife yet? If so, injection treatments may be an option for you.
Directly in the nose, Restylane is used to smooth out uneven bridges or humps. Around the nose, many people lose volume as they age. These changes can cause the shape of the nose appear different than in our youth. Restylane injections on or in the area around the nose can help restore youthful volume and reverse these changes. By smoothing and filling the area around the nose, the transition from the nose to the cheek appears smoother and more rounded and soft, rather than hollow and angular.
Did you know that Restylane gel can be injected almost anywhere that you need added volume in your face? Many times, we think of Restylane injections for lips and laugh lines, but it is really a versatile product that can be used in many areas. Beneath the eyes (tear troughs), acne scars, earlobes and around the nasal area are all places that Restylane can be used to replace lost volume.
If you think you might be interested in Restylane injections in this area, please call us today to set up your free consultation. We would love the opportunity to discuss all of your aesthetic concerns and help you make the decision if Restylane injections are the right choice for you!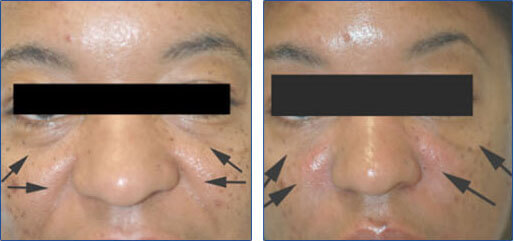 * View More Restylane Injections Before and After Pictures
Return to The Art of Facial Shaping
Contact us today for a FREE Consultation!