Are your hands looking more and more like Mom's? As we age, it's a common occurrence for most of us. At Celibre Medical, many patients ask us why this happens and what we can do to help. Hand rejuvenation can require one or more procedures and what we suggest for you depends on why your hands are look older.
The two most common signs of aging hands are discoloration (brown spots or sun spots) and volume loss. Either problem alone can make your hands look decades older, but when they occur together, most people feel like just hiding their hands altogether!
The discoloration or age spots that develop on the backs of your hands typically is the result of years of cumulative sun exposure. Think for just a moment about how often your hands are in the sun. Do you drive often during the day? Do you remember to sunscreen your hands at the pool or the beach? It's easy to see how repeated exposure to UV light can make the skin on your hands look much older than anywhere else on your body! As we age, the loss of collagen and elastin leads to thinner skin, which shows more pigmentation and allows brown spots to form more easily.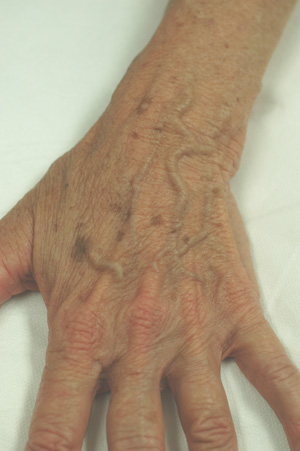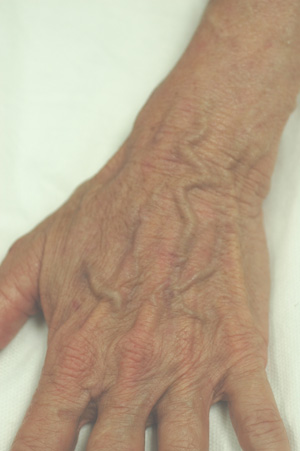 Age Spot Removal Before and After Pictures
Q-switched YAG lasers are used for age spot removal on the hands. Because these lasers are highly absorbed by brown spots, they work great to get rid of your spots and are an invaluable tool in the hand rejuvenation process.
Another common complaint about aging hands is volume loss. Just like your face, the shape of your hands changes with time. Full, soft and rounded features disappear. In your hands, this makes your veins stand out and causes grooves and dips between the tendons of your fingers. All these changes may be more pronounced if you lose weight or are a thinner person naturally, so your weight can also affect how aged your hands appear to be.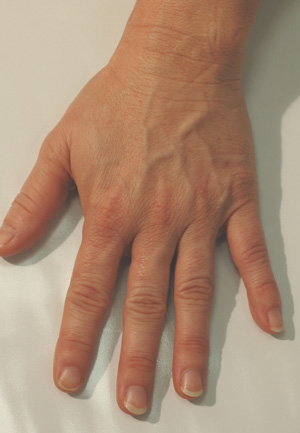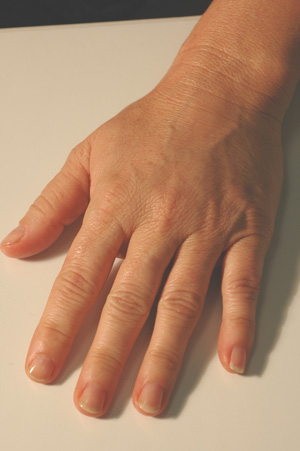 We've already discussed how the skin thins, but that's only part of the reason for volume changes in your hands. The true culprit is the loss of the fatty, supportive layer beneath the skin. If you've read some of our other pages on volume loss, then you know that as we get older, our subcutaneous fat goes away in some places and accumulates in others—and unfortunately, we don't get to tell it where we'd like it to go!  The same is true for your hands.
What can help this? Dermal filler injections. By replacing lost volume, injections of these products into your hands can restore fullness and literally turn back time! The products and injection techniques for this procedure have evolved since they were first introduced. We use only the latest, most up-to-date and effective protocol for filler injections in the hands. The results are immediate! They also tend to improve over a couple of weeks and most of our patients tell us that their results last for at least six to nine months!
Together or separately, q-switched laser treatments and dermal filler injections are used to restore a youthful appearance to your hands. Both procedures require no downtime, so anyone is a candidate. Here at Celibre Medical, we tailor a treatment plan to your specific needs. Together, we will get your hands looking as young as you feel!
---