Overview | Treatment | Before and After Pictures | Cost
Do your age spots have you looking older than you feel? If you're ready to do something about getting rid of age spots, safely and permanently, then we're ready to talk to you about q-switched laser treatments.
Maybe you've tried IPL treatments and had a bit of improvement in your sun damage, but didn't see those ugly age spots disappear like you were hoping to? Q-switched lasers offer a unique technology that is safe, yet highly effective for deeper pigment problems—even birthmarks and tattoos! You can't go back and undo those years of baking in the sun, but now, thanks to powerful, FDA-approved q-switched lasers, we can erase those unwanted age and sun spots quickly, easily and for good.
At Celibre Medical, we pride ourselves on not only procuring the latest, most effective and innovative laser technology, but also with the best, most professional and highly qualified laser practitioners to tackle the toughest of skin problems. Call us now to find out how our age spot removal program can transform your skin and take years off your appearance.
It's not a gimmick; it's real, powerful and effective laser technology in the hands of the best laser practitioners in the Los Angeles and Orange County area. We can help you just as we've helped thousands of others in the area achieve, clearer, more youthful skin. Call us today to schedule your free consultation.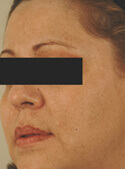 * Age Spots Before and After Pictures
Contact us today to schedule a FREE Age Spot Removal consultation!